Promat, a reliable partner for the battery recycling market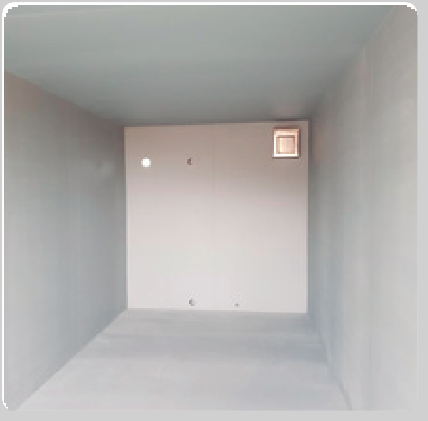 Growth in the use of devices with batteries, particularly electric vehicles, is generating a significant increase in the number of batteries that are reaching the end of their service life and, as such, will need to be recycled. The risks involved in managing these batteries, during both their transport and storage, and the recycling tasks themselves, make the correct fire protection necessary. This protection must be truly effective and take into account both active and passive measures, given the complementary nature of both. Promat has extensive experience in this field, using different technologies to resolve any challenge and adapting different materials to a wide range of applications, fire rates and systems.
Promat offers extensive experience and a wide range of insulation and fire protection products that can be adapted to meet the needs of the battery market. The company devotes significant resources to understanding the risks associated with the batteries so that, in partnership with industry, it can find solutions to support the growing battery market.
The Promat approach to fire protection in the battery market is based on four prisms:
Transport. Companies involved in collection, distribution and specialised logistics, with a focus on fire protection.
Storage. Collection points, storing batteries on site for sorting, with a focus on fire protection.
Recycling. Companies involved in the process of recycling and extracting metals from batteries.
Production/assembly. Opportunities for materials in the batteries themselves or for heat shields, particularly for electric vehicles.
Promat has already undertaken several projects with battery recycling specialists, in which it has made all its expertise available to its clients to mitigate the effects of thermal runaway, proposing solutions that cover both active and passive protection measures: an optimal approach given the complementary nature of both.
For this Promat maintains a working line based on different intumescent products, such as those from the Promaseal® range, and the Promapaint® coatings. The main feature of these products is that they deform at a certain temperature, dilating and creating an insulating foam that adapts to any shape, no matter how complex.
The SC3 and SC4 products from the Promapaint® range are two high performance, intumescent products, designed to provide fire resistances of up to 180 and 90 minutes respectively in metal structures. These are being evaluated by Promat with a view to applying them to battery system protection.
Promaseal® is a graphite- based product that can be presented in different formats - granulate, tape, etc. – and also be manufactured in slabs. It expands at around 190°C, multiplying its thickness 20-fold. This product offers other advantages such as high resistance to ambient conditions such as light, heat, frost, UV radiation and humidity; as well as being free from organic solvents.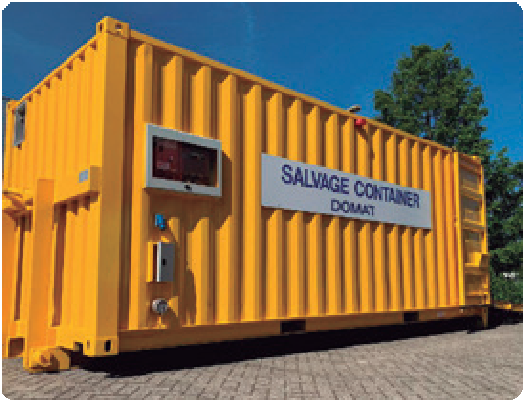 Collaboration with Domat
Promat has recently collaborated with Dutch company Domat to develop a containerised solution, particularly designed for the battery market.
In terms of innovation, Domat is taking part in the niche sector of the safe transport and storage of damaged lithium batteries, specifically, electric vehicle batteries.
The omnipresent risk of fire in li-ion batteries has fostered the development of a completely new product in the market. Together with different partners, including Promat, Domat has developed the "Salvage container", a completely modified ISO shipping container designed to safely house and transport damaged battery electric vehicles.
To develop this type of containers that store li-ion fuel cells for recycling, the following products from the Promat range are used: Promaseal® PL intumescent strips and silicate boards such as Promatect®-100 and Promatect®-H.
Thanks to their intumescent power, the Promaseal® PL strips guarantee the surface behaviour in the event of fire (expansion in contact with heat from 150°C). In general, intumescent products can achieve up to 20 times their initial volume and thus seal the space created by the destruction of the burned elements.
As the leading global producer of calcium silicate based on the PROMAXON® patented technology, Promat produces one of the most comprehensive and efficient ranges of boards on the market. These include the Promatect® 100 and Promatect®-H products.
Promatect®-H is a non-combustible matrix engineered mineral board reinforced with selected fibres and fillers, containing no formaldehyde. It is off-white in colour and has a smooth finish on one side, with the other side sanded. The board can be left undecorated or easily finished off with paints. Promatect®-H is resistant to the effects of moisture and will not physically deteriorate when used in moderately damp conditions.
It is suitable for protecting metallic structures and for partition walls. Its main benefits include the following:
Non-combustible.
Resistant to the effects of moisture and humidity.
Impact-resistant.
Up to 4 hours of protection for some systems.
Performance characteristics are not degraded by age or moisture.
The Promatect®-100 board is made of calcium silicate bound in an off-white mineral matrix. One side is smooth and ready to form a finished surface, able to receive almost any form of architectural/finish treatment. It is only suitable for internal applications.
The Durasteel® material is used for those solutions that only call for a very high mechanical resistance.