Promat Complete Prestigious Church Redevelopment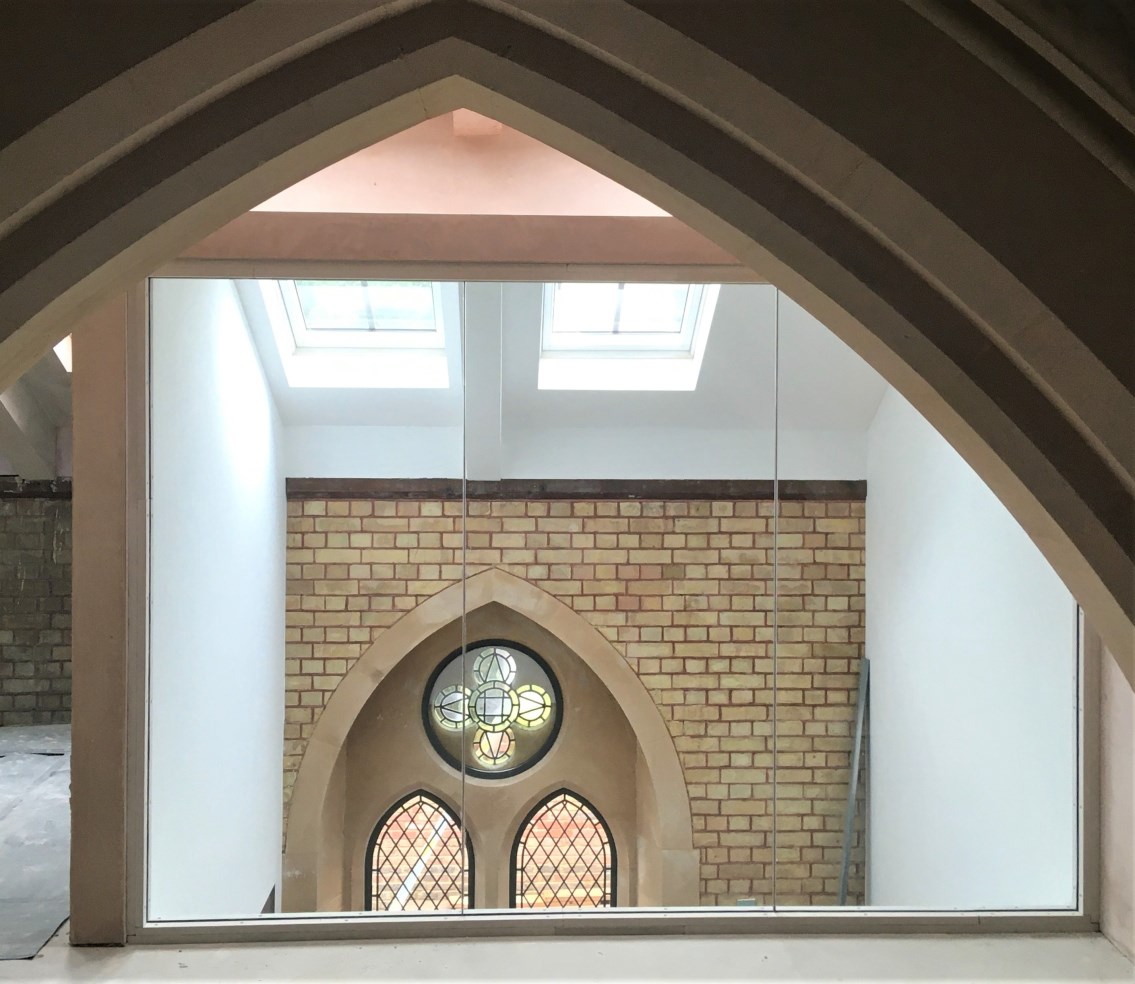 Christchurch in Teddington Middlesex was founded in 1864 and was a place of worship for over 150 years. In 2015 it was purchased by Renaissance Design & Build for conversion in to 6 luxury apartments. The extensive refurbishment has included a complete modernisation including a spiral staircase, roof garden and much more.
One of the many challenges was ensuring the building was upgraded to current building regulations and that compartmentation was introduced into what was originally an open area for the congregation. The Renaissance team engaged the Promat glass team to provide the best technical and aesthetic solution for each area of the building.
SYSTEMGLAS® Celare EI30 with anthracite trims matched the modern internal décor of the apartments and provided compartmentation between the different living areas. SYSTEMGLAS® Ligna EI60 was chosen for the centrepiece Gothic and Trapezium frames to protect the original stone stained-glass windows.
The installation was completed by long standing Promat Approved Installers, Rated Solutions Ltd based in Folkestone.
Keith Crouchman, Renasissance's Project Director said "I was really impressed by the professionalism and expertise of Promat and Rated Solutions, they worked extremely hard through the pandemic to ensure we kept to our original build schedule".
Building owner & Renaissance Managing Director, Cliff Hamilton is delighted with the finished product "the building is absolutely amazing, the devil is in the detail and we made sure that every aspect of the building was finished to the highest possible standards, the Promat glazing systems were ideal, bespoke frames, slim sight lines and clear butt joints meant that we never had to compromise on my ambition for the internal appearance of the building"
As well as Promat's 3rd party accreditation the building owner was issued with a project specific 360deg Guarantee / Certificate of Conformity for the additional peace of mind of their occupants.
For more information contact your local Promat representative or reach out to us here.