Promat US goes zero landfill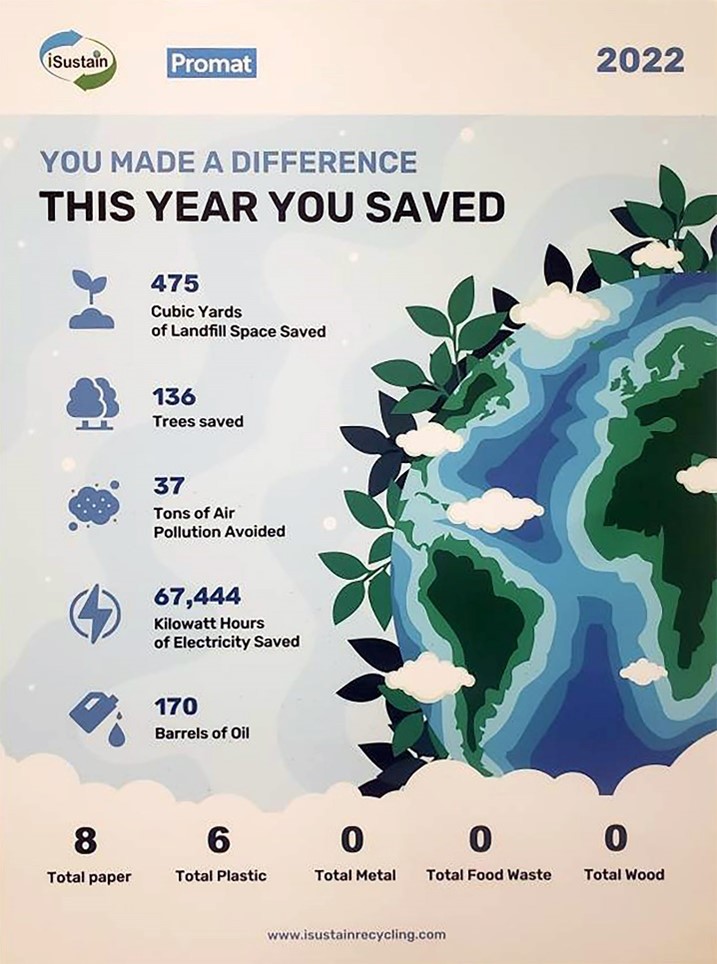 Promat's US business has completed its second full year as a zero-landfill manufacturing facility, certified by iSustain Recycling. This achievement is a clear testament to the company's strong commitment to sustainability and reflects its purpose: advancing expertise to build a safe and sustainable world.
Promat's dedication to sustainability is evident in the results of the team's efforts. The savings made in 2022 include 37 tons of air pollution, 67,444 KWh of electricity, and 475 cubic yards of waste (363 m³). Promat diverted 74.12 tons (65.44 metric tonnes) of waste away from the landfill. Compared to 2019 zero waste was diverted from local landfills. These impressive numbers demonstrate that Promat's waste reduction activities and employee awareness efforts are vital pillars in achieving zero landfill status.
At Promat, waste reduction is not just a buzzword, but a core value that drives the company's operations. In addition to employee awareness initiatives, the company uses three main activities to prevent waste from ending up in landfills: recycling, on-site food waste digestion, and waste-to-energy processes.
Promat's commitment to sustainability goes beyond mere compliance with environmental regulations. As a company, we recognize that being environmentally responsible is not only the right thing to do but also makes good business sense. By reducing waste and energy consumption, Promat is not only helping to protect the planet but also cutting costs and increasing efficiency.
Did you know that…
Landfills are the largest human-made contributors of methane – a very potent greenhouse gas – into the atmosphere? By preventing waste from ending up on landfills, Promat is reducing its carbon footprint significantly.
Using recycled scraps to make aluminium cans uses 95% less energy than making cans from raw materials? Recycling materials like paper, glass and metals is a more energy-efficient process than producing products from extracted raw materials.
Waste types including non-halogenated plastics, carpet, wood and foam products can be processed and blended into a useable and sellable solid fuel? This is achieved through waste to energy, a process in which waste is converted into alternative engineered fuels (AEF).