New solar panels installed on roof of Filago plant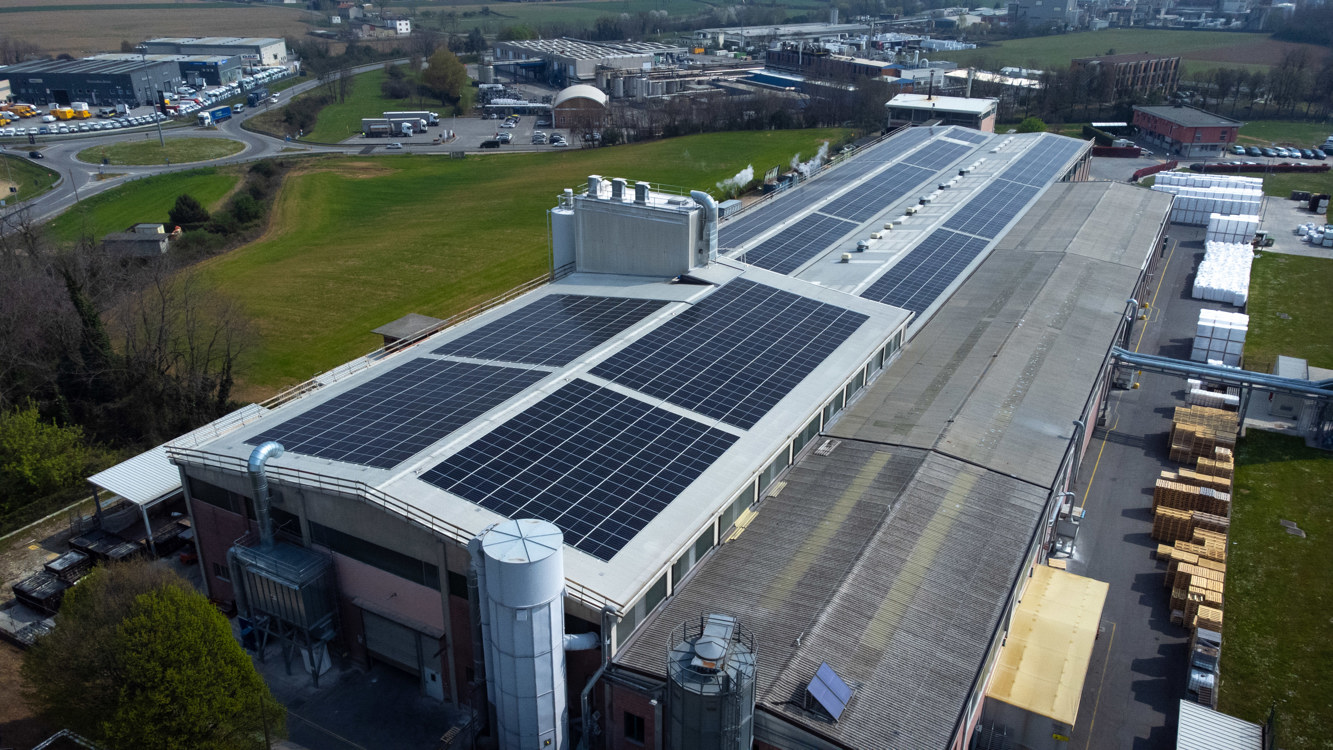 As part of the Etex Group, Promat is investing more and more in sustainable technologies to reduce our impact on the environment and the climate. One such investment was the installation of photovoltaic panels on the roof of the Promat factory in Filago, Italy in the spring of this year. The panels cover a total area of about 3,170 m² and will produce up to 818,856 kWh of solar energy per year.
We asked Roberta Facheris, Plant Manager at Filago, to explain the project and what its impact will be on Promat and the environment.
How will the solar panels have an impact on the factory's energy consumption?
The new solar panel installation will account for about 15% of the electrical energy consumption of the plant.
You've partnered with GreenPulse and BayWa r.e. to have the panels installed. Could you explain how that partnership came about and how it has benefited Etex?
The Etex Group CSR Department introduced GreenPulse, who then selected BayWa r.e as a local partner for the project. These partners are helping Etex in its sustainability journey, formalised in the "Road to Sustainability 2030" article available on our Etex Core platform. The priority areas in this roadmap are: health, safety and well-being; decarbonisation; circularity; diversity, equity and inclusion; and customer engagement. For decarbonisation, we plan to reduce GHG emissions by 35% compared to 2018 – this solar installation contributes to that goal.
The Filago plant follows other recent photovoltaic projects in Italy, Spain and Belgium by Etex, also in collaboration with GreenPulse. These projects allow Etex to save more than 4,000 tons of CO2 every year thanks to a total of 10 MWp of photovoltaic systems with a total production of 15 GWh of renewable energy per year.
Is this the first investment in renewable energy for the Filago plant? Are you planning on further investments, including on-site solar panels?
Yes, it was the first installation of on-site renewable energy. But it's only the first phase: we are planning to extend our photovoltaic capacity to another building roof. Moreover, we are evaluating building a structure covering the parking lot, on which we could place solar panels. We are also looking into installing some charging stations for electrical and plug-in hybrid cars.
What are the long-term environmental goals the Filago plant and how do they fit into Etex's sustainability strategy?
At the plant, we are focused on reducing our CO2 emissions as well as our waste. On top of the new photovoltaic panels, we are also working on a few other projects, including a new line for the laminated products, which will be completely electrical giving as result a zero-carbon production process. Meanwhile, we already replaced our boilers with more efficient installations for the industrial calcium silicate line. We will also investigate how to reduce the thermal energy impact to reduce our carbon impact. Furthermore, we are looking at ways to reduce packaging waste as well as waste material coming from the production process. So, we have a lot of interesting projects running to support Etex's sustainability roadmap!