Promat Australia Fire Collar Selector App
Compliance Made Easy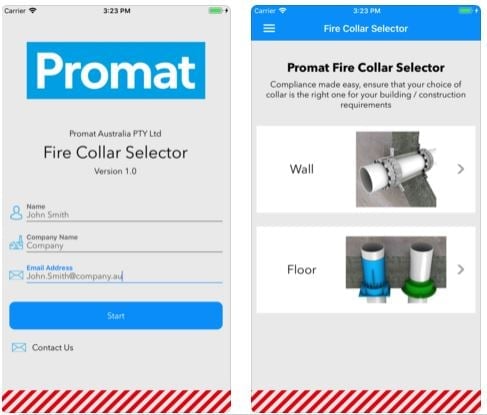 Compliance Made Easy
The Promat Australia Fire Collar Selector App helps to answer some of the most common questions that we receive:
"What fire collar do I need?"
"Have I used the correct fire collar?"
It is very simple to use, requiring the selection of only a few parameters to get an answer.
The App contains data for a large variety of wall and floor types, different pipe types as well as a variety of pipe sizes and Fire Resistance Levels (FRL).
It also allows you to select whether you need floor waste or stack approvals as well as fitting or no fitting.
The whole range of both cast in and retrofit Promat collars are included.
Once you have your answer, you are given a picture of the collar, its name and code to make the ordering process simple for you.
It lists the report number and you can request a copy be sent to you.
There is a link to access further details on the fire collar from our website.
The selector can be used on or offline, so a lack of mobile or wi-fi coverage is not an issue. Report requests and access to product data will require a connection.
If you can't find the answer you need within the App, you can access our technical team directly from the app itself.
Available to download for free from the App Store or Google Play
Promat Technical Support
Contact our technical support team with your questions on passive fire protection solutions, our products and systems or installation advice...
Technical Documentation
Find the product datasheets, system brochures, Declarations of Performance, installation manuals and other documents you need to get the job done.